BridesChoice 2013
Kurt Nielen Photography Logo
2013 best of the knot
Welcome to Kurt's Kustom Keepsakes Green Screen Photo Booth
Kurt's Kustom Keepsakes is a Green Screen Photo Booth division of Kurt Nielsen Photography. This is not your average photo booth that you rent. Kurt's Kustom Keepsakes is an open air style, interactive photo booth that uses "Hollywood" technology to create a one of a kind image.
Click Here to search for your event. Scroll down to learn more!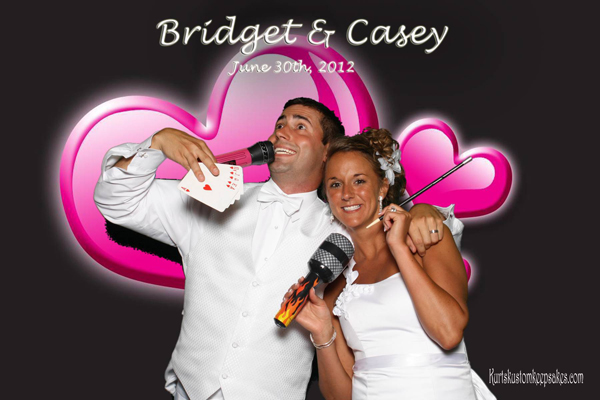 All images are uploaded to this site within a few days for your guests to download for FREE. For just a little more, we can also print a 4x6 photo within just a few seconds while at your event for your guests to take home as a party favor or souvenir of the event. For the background, we can use your favorite images or create ones specifically for your event. Did we mention that you get all of the images on a disk? Feel free to look at any or all images for these events. If you have any questions or want to make an appointment for a free consultation, please call Kurt at (419) 885-7153 to schedule your appointment. Be sure to ask about our scrapbook option and special pricing or donation options for non-profit organizations.
Click Here for pricing information! Scroll down to learn more about how our photo booth works!
Frat-Party-Photo-Booth-0048
What does open air photo booth mean? Unlike a "classic" or "traditional" photo booth where you can only fit 2 or 3 people in a box-like area enclosed by a curtain, we use a 10 foot wide green screen and portrait lighting, just like if you were in a photography studio. This allows more people to be in the picture, and we all know that everyone likes to take group photos!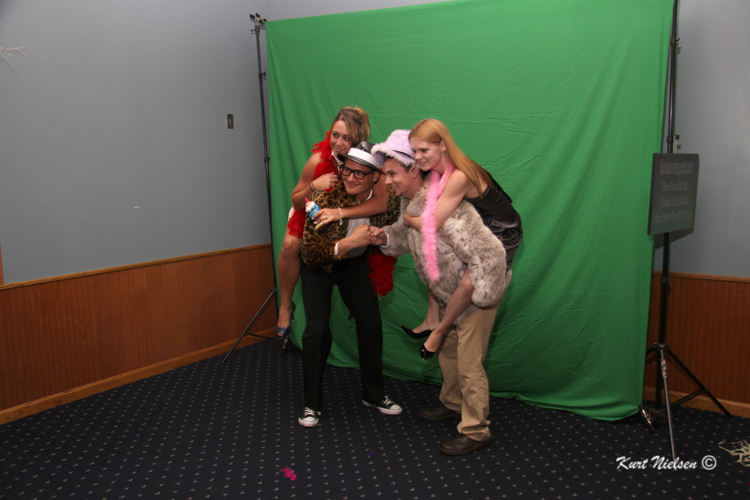 The green screen, or Chroma Key, is what the weather people on TV use for their weather maps and it's what the movie makers use where the actors are acting in the studio when it looks like some giant creature is chasing them or buildings are blowing up in the background, or whatever the movie is about. Some movie makers use a blue screen, which we also have, but green is more widely used.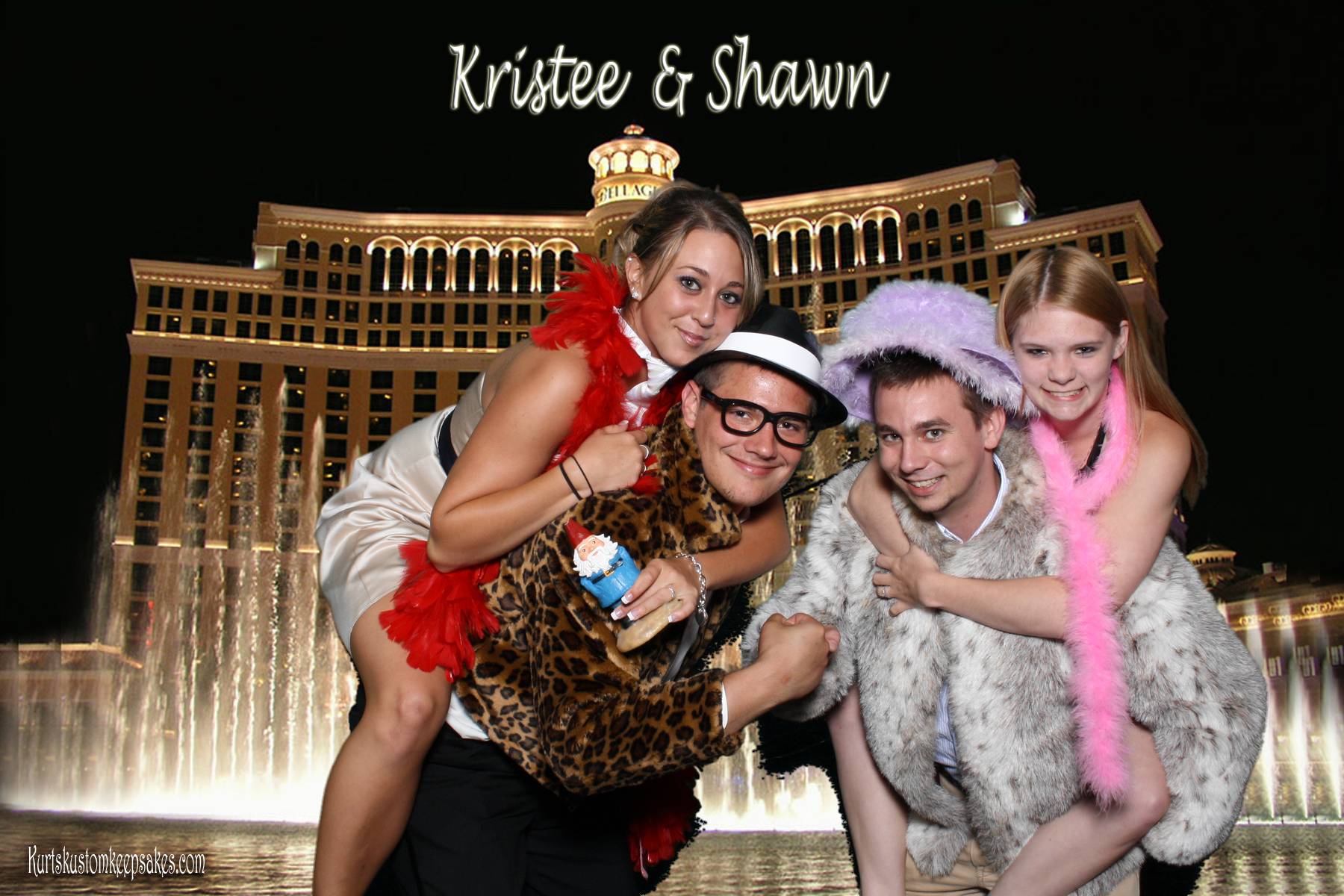 Once the photograph is taken, our computer software will take out the green background and replace it with the background of your choice (see both of the above pictures). The fun part of this is that if anyone is wearing green, their green clothing will also disappear if it is similar to the color of green we use, as you can see in the image below. The girl in the photo was wearing a green dress that was almost exactly the color of our green screen so the background image shows through where her dress should be.
Live-Photo-Booth-0074
By using a green screen (or blue screen), instead of the boring white screen you see with most photo booths, background possibilities are unlimited. You can choose from the hundreds of backgrounds that we have, or Kurt can create one just for you! You can also use your favorite scenic photos that you have taken yourself! We like to give the party guests about 4 or 5 background images to choose from the night of the event. You would be surprised at how creative the guest can be when there are scenic backgrounds from which they get to use.
Green-Screen-Event-Photography-0060
The host of the event (you) chooses the background images at your free consultation before your event. If you have a theme, we try to match the backgrounds to fit your theme making your photo booth uniquely yours! We also bring props to the event (at no extra cost to you), which we also try to match to your theme. Of course, if you have specific props that you want used, you are more than welcome to supply your own props as well as the ones we will bring. If for any reason you do not want props used, please let us know at your consultation.
Special-Occasion-Photo-Booth-7845
So how much room do we need? Well, we do need a lot more room than the traditional style photo booth dimensions. We work best if we have an area that is at least 11ft x 13ft, or as close to that with optimal space at 12ft x 15ft. It is also best if we are in an area that is seen by most of the guests. However, if you do have to put us in a hallway, coat room, garage, or some place where we are not as visible, it is a good idea if you make a sign and/or have your DJ announce periodically where we are and what we are doing and that it is totally FREE for your guests (unless we are taking donations for your organization, then that is what they need to announce). You would not believe how many people at weddings or parties do not realize that we have already been paid for our time and want to know how much we cost. We will also need a 6 or 8 foot table and 2 chairs, and we need to be close to an outlet for power. If you are having an outdoor event, we can do it as long as we are covered under a tent or awning. This is because of the electronic equipment we are using and the lighting from the sun. Also, if we are outside, please make sure that we are not facing directly into the sun or your guests eyes will be closed in most of the pictures and there will be lots of shadows, and your guests won't like their pictures.
There will always be a photographer at every event. You have probably seen some photo booth photos where people have their backs to the camera or their heads are cut off or there is only half a person in the picture. Having a photographer there to snap the photo for you guarantees that everyone will be in the shot and it will look the way they want it to look. We also can help "direct the shot" for those that want to jump or pose according to the background image. We will also have a computer technician to take care of the program and printing. Our printers are so fast that by the time your guests take off their props, their pictures are usually ready for them to take home. The photos are also high quality and ready to frame and are 4"x6" (actual size), not the little 2x6 strips. If we are doing prints, there will be a third person to help things run smoothly and make sure everyone that wants a print gets one. We bring a high definition television to every event so the guests can see their photos as soon as they are taken. If we are slow or have down time for programming (like your grand entrance or during dinner), we run a slide show of all the photos that have been taken providing more fun for your event.
Toledo Photo Booth IMG_0311
Our most popular new option is our scrapbook which is better than the average guest book. We print an extra copy of each image taken and mount them on scrapbook paper and the guests that are in the photos get to sign and decorate their pages. This is such a great idea because in 5 or 10 years, when you are thinking about your event, and remember someone's name but can't remember what they looked like or can picture their face but don't remember their name, you will have a great record of everyone that came. Plus, it is always fun to read their captions of their pictures or advice they give for your occasion. Of course, if we are doing a scrapbook, we will need an extra table that is big enough for the scrapbook items and room for the guests to sign their pages.
Green-Screen-Photo-Booth-0111
There are no hidden costs with Kurt's Kustom Keepsakes green screen photo booth. We do not charge "idle" time or set up fees like many of our competitors. We do not charge extra to "customize" your photos with your logo or event name. We do not charge extra for the props that we bring. Everything is included! If you are outside of the Greater Toledo Area, minimal travel fees may apply, depending on your location and needs. We have many packages to chose from, even if you already have a photographer for your event and only want or need our photo booth. If you chose any one of our packages that includes prints, we are at your event for the duration! We won't leave in the middle just because our time is up, that's not our style. Don't worry, we won't charge you extra either. Plus, we arrive at least 1 hour before the event is supposed to start in order to be completely set up and running by the time your first guest arrives. All of our pricing options can be found on our website: Click here! Feel free to compare our pricing with that of our competitors! You will be amazed at how affordable our photo booth and photography packages are, especially once you add up all of their extra fees!
Prom-Photo-Booth-0038
We do not print the little 2x6 strips where you only get two sets of photos that are so small you can't see them and your guests have to fight over who gets them. We print 4x6 inch photos and anyone that is in the photo can have one printed; and for most of our packages, there is no extra charge because we have unlimited prints included! Plus, we put them on this website for FREE download to use on Facebook or whatever you want to do with them. We have even had guests tell us they were going to use them for Christmas cards!
Graduation-Photo-Booth-0112
So what kind of events are good for green screen photography? The answer is just about anything! We have taken our green screen event photo booth to Weddings, Birthday Parties, Bar and Bat Mitzvahs, Sports Banquets, Charity Events, Fundraisers, Proms, After-proms, Christmas Parties, Office Parties, Company Picnics, Corporate Events, Graduation Parties, Class Reunions, Holiday Parties, Grand Openings, Sporting Events, Customer Appreciation Events, and we have even been at the Mall several times.
Holiday-Party-Photo-Booth-8160
Do you have your own background set and just want a photo booth style option to give prints to your guests? We can do that as well! We can customize an "overlay" with your event or company logo and still provide prints for your guests to take home.
Ronald-McDonald-House-Event-7544
Did we mention that we travel? Kurt's Kustom Keepsakes green screen photo booth proudly serves all of the Greater Toledo Area, Northwest Ohio, Southeast Michigan and beyond. We can travel to any destination in the world. Some of the areas we serve include (but are not limited to) Toledo Ohio, Bowling Green OH, Sandusky OH, Put-In-Bay, Lucas County Ohio, Wood County Ohio, Monroe County Michigan, Lenawee County MI, Fulton County OH, Erie County OH, Cleveland, Detroit, Monroe MI, Adrian MI, Findlay OH, Fremont OH, Allen county Ohio, Lima OH, Ann Arbor MI, Perrysburg, Rossford, Northwood, Maumee, Holland OH, Sylvania, Dundee MI, Temperance MI, Bedford Twp., Ida MI, Hillsdale MI, Farmington Hills MI, Hudson MI, Tiffin OH, Swanton, Delta, Archbold, Napoleon, Bryan OH, Grand Rapids, Chicago, Columbus, Dayton, Cincinnati, Lambertville, Oak Harbor, Oregon OH, Waterville, Adrian Michigan, Morenci MI, Kelly's Island, Luna Pier, Kalamazoo, Putnam County, Maumee Bay State Park, Chicago, Petersburg MI and anywhere else you are.
Kurt Nielsen Photography
[email protected]
5431 Schultz Drive
Sylvania

,

OH

43560
419 885 7153
Hours of Operation:
Monday 10am - 5pm
Tuesday 10am -5pm
Wednesday - closed
Thursday 10am - 5pm
Friday 10am -5pm
Saturday - closed
Sunday - closed
Weekend and Evening hours available by appointment only.
Kurt does everything by appointment only, so even though these are his posted hours, please call in advance to be sure someone is actually in the office when you get there because he may be out of the office or on location.
facebook
Twitter
wordpress-logo
youtube
linkedin